The remaining dates in July and August have been discounted by 20%, please get in touch to make a booking. These prices are shown as discounted on our availability calendar.
As the house is so large (sleeping eight people comfortably in five bedrooms) it is the perfect base for multi-generational holidays. This is the new term for heading off on holiday with your children, parents, grandparents etc which seems to be the new fashion for holidays in the UK! We have found this to be the case here and have met some great extended families who have chosen to make Ben Duirinnish their base for a holiday in Argyll.
Looking online I see some interesting statistics on this:
While saving money was a significant factor in this growth of extended family holidays, it was not the main motivation. Extended family breaks were seen as a chance to strengthen ties with grandparents who play an important role in everyday life and three quarters of families acknowledged that extended family holidays were a great way for the grandparents to bond with the grandchildren. Multigenerational holidays have also enabled 6 out of 10 couples to spend more time together since their children were being taken care of by the grandparents.
It seems the secret to a great multi-generational holiday is making sure that you take everyone's preferences into consideration (and of course not just using the grandparents as babysitters!)
We think the Oban area offers plenty to do for all ages, whether you are interested in shopping in some of the small quality gift shops in Oban that sell locally made goods; trying out locally caught seafood in some of the great restaurants in town or the surrounding villages; exciting or sedate boat trips to see seals, local wildlife and islands; beautiful gardens to visit; the Sealife Centre and Seal Rescue for kids, as well as indoor climbing, ropes courses, segway, kayaking, gorge walking, white water rafting …..
…. for more ideas see our things to do page!
We're just back from a fantastic afternoon trying out the new Segway Centre at Tralee in Benderloch. It is suitable for children from age 10 upwards (so we took a range of sizes of kids to try it out!) and it is great fun. After a thorough introduction and briefing we had a chance to try out our new toys on the old go-kart circuit there, before getting a bit more technical and trying slaloms, grassy tracks and then the nearby woods. It was a great experience and one we can highly recommend. In total it lasted about an hour, which was enough as by the end it can be a little tiring (mainly because I was so tense!)
With the stunning weather we have had lately up here (sorry to hear about the floods down south!) it seemed a good opportunity to walk up Ben Lora. This is the hill behind the village of Benderloch, just a few miles up the road from us. It is a good walk for families and dogs, starting in the forestry and coming out on top of the ridge, with a short walk up to the summit. There is also the fantastic Eagles Eyrie viewpoint, and I must confess that I spent so much time up there enjoying the view that I didn't then get up to the summit …. but as you can see by the photos it was worth it!
We're just back from a fabulous meal at The Pierhouse, Port Appin. Excellent food, great service and what a view!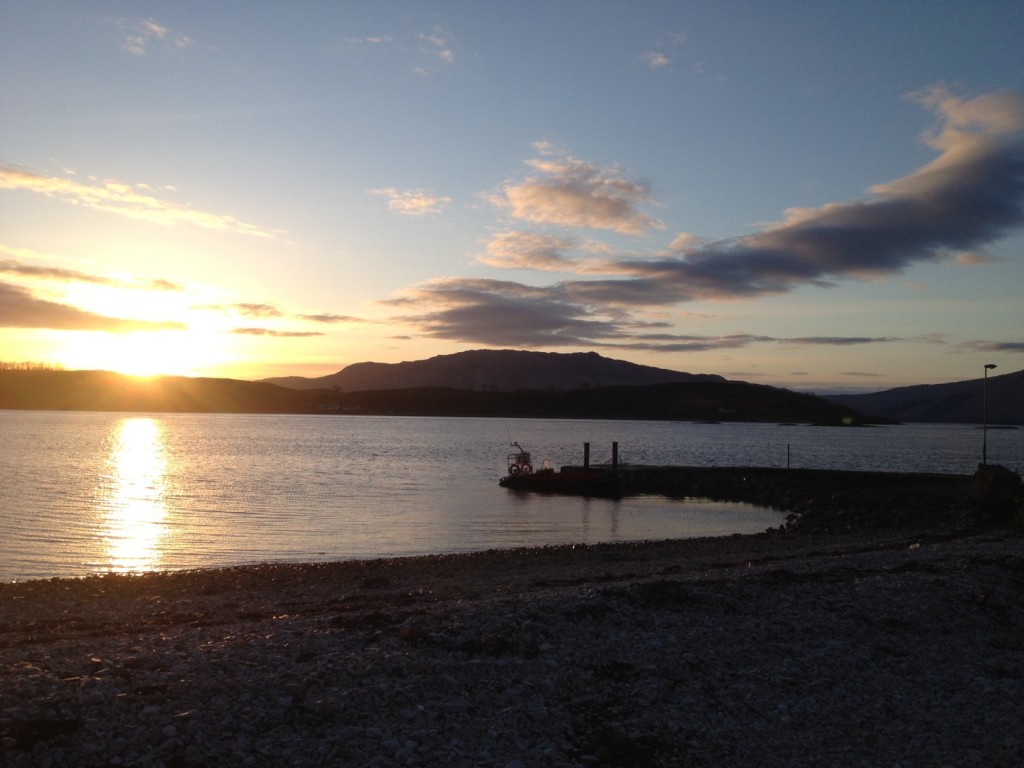 If you have already tried geo-caching, then you will know that it is a great way to explore a new area, and get children interested in going for a walk. If you haven't come across them before then this explanation below from geocaching.com sums it up perfectly!
Geocaching is a real-world, outdoor treasure hunting game using GPS-enabled devices. Participants navigate to a specific set of GPS coordinates and then attempt to find the geocache (container) hidden at that location.
 More information is available in their guide to geocaching. Most of the caches are plastic water-tight boxes that contain a logbook and some small items. Using your GPS or smartphone see if you can find the cache using the co-ordinates available on the geocaching website, then sign the logbook and (if you came prepared!) take one of the items in the box and leave one in it's place. The items are normally small, for example a keyring, badge, stickers, small toy, hand warmer, ….. anything that will fit and is suitable for all ages really!
Browse geocaches close to Ben Duirinnis House, and to get full details you need to register for their free membership.
Well, here we are hard at work getting the house ready for our first guests of the season … but the early morning sunshine and peace has turned it into a 'can I get wifi and put a post on the website from the bench outside' session instead! So , if you fancy sitting here and checking your emails while listening to a raven fly overhead and enjoying the view then get in touch … and I'll go back to the cleaning!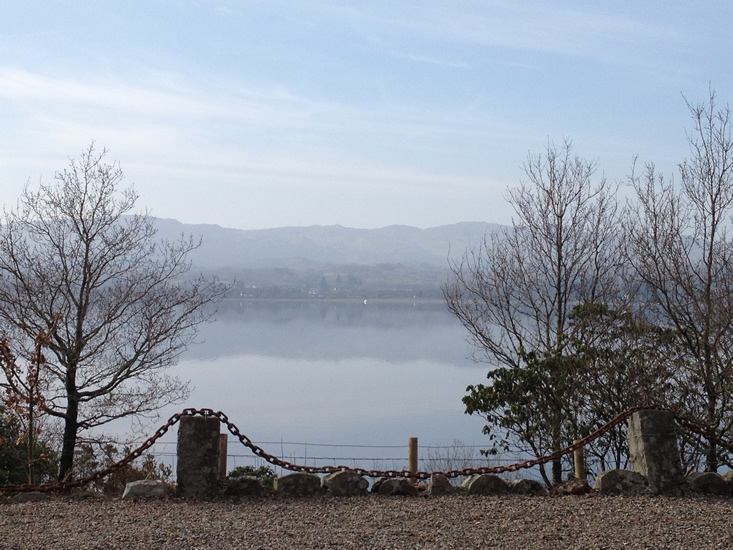 To see this map cookies and javascript must be enabled. If you are still having trouble after having checked both of these please contact us using the link at the top of the page
As it is a beautiful sunny day, we headed out with the dog up Glen Creran, just north of Ben Duirinnis. This is a very quiet spot that takes you from the peaceful and picturesque glen up to the wild looking expenses of moorland heading towards the northern end of Loch Etive.
Park at the Forestry Commission car park, and follow the signs to Elleric, and then follow the track on to Glenure Lodge. Passing to the left of the main house, through the yard, go through the gate and follow the track over the stream and turn left to follow the path up the glen.
The walk is around 3.5 miles each way and ascends to around 270m. It is a steady climb all the way up, but worth it for the views back down the glen.
I have tried out one of the local kayak instructors in the area …. Julian Penney at Oban Sea Kayaking Expeditions. I was wanting to build on the limited sea kayaking skills that I already have, so that I can get a bit more active this summer. What is the point in living in such a beautiful area if you don't get out and make the most of it!
Julian wanted me to practise some basic skills and then build upon them so that I am more confident in moving water, plus can steer with more use of my body rather than just relying on paddle strokes. We set out from Connel and had a quick play in the current coming through the Falls of Lora under Connel Bridge. I never imagined I would be able to cope with this, but with Julian's help I not only survived but enjoyed it too!
We then came into a sheltered bay where I could be put through my paces with more 'edging' practise, and introducing more complex support strokes. It was a great way to build my confidence, plus my skills, and I am now looking forward to more adventurous paddling this summer.
Julian offers day paddles based around the oban area, as well as his more adventurous week long sea kayaking expeditions and training courses, and is happy to take out a range of skills, plus can provide equipment.